Happy 32nd Anniversary, Mobile Suit Gundam!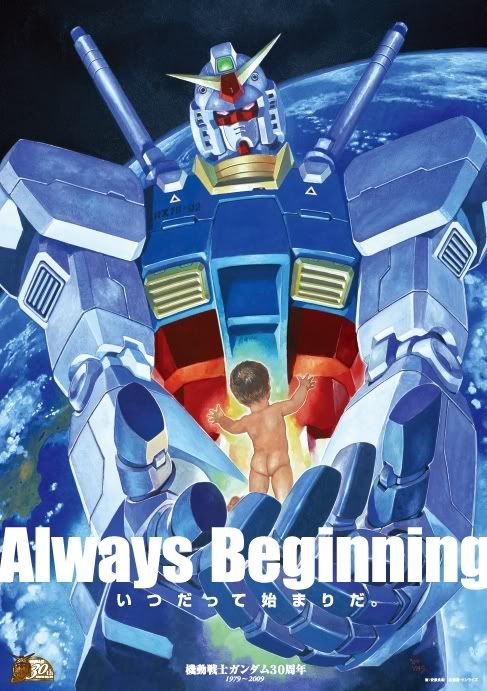 For those who don't know, "
Mobile Suit Gundam
" - the landmark mecha anime series that not only started a beloved sci-fi franchise but also kick-started the genre known as "Real Robot" - turned 32 years old today. First airing on the
Nagoya Broadcasting Network
on April 7th, 1979, "
Mobile Suit Gundam
" was far from a blockbuster series, but much like "
Star Trek
" before it in the US, Gundam grew in popularity with a young adult crowd once it fell into syndicated reruns shortly after an unsuccessful first run. Like a phoenix from the ashes, Gundam was given a second shot at the spotlight and influenced many sequels, movies, spinoffs, and other animes in general.
Not only is the marquee mecha, the
RX-78-2 Gundam
, an iconic mobile suit, this series introduced us to two of the most memorable characters in anime & sci-fi history:
Amuro Ray
and
Char Aznable
. Both characters set the archetype for rival mecha pilots and though there have attempts to duplicate it, the impact those characters left on the medium has rarely been repeated in anime.
Animated by
Nippon Sunrise
and created by
Yoshiyuki Tomino
& "
Hajime Yatate
" (a pseudonym for the collective Sunrise creative staff), "
Mobile Suit Gundam
" captured the imagination of millions of fans around the world over the last 32 years. If it's been awhile since you've seen the original series or if you've been hesitant to check it out (either due to it's age or it being so different from the Gundam series you've seen), you owe it to yourself to watch the pilot episode - which is below and provided free by
Bandai Entertainment's YouTube Anime Channel
! If you like what you see, scope out the remaining 41 episodes
here!
Many thanks to Tomino & Sunrise for bringing such an amazing series & franchise to life and brightening our lives with it's many stories, worlds & characters.
Kampai!
Soul Bro Ryu
SBRmahq@gmail.com